CAMPBELLS SCOTTISH FOOD NEWSLETTER
Fresh Scottish Produce Delivered to Your Door!
Sign up to their newsletter or request their digital catalogue today and receive a 10% discount code plus 2 free sirloin steaks if you spend over £30 on your first online order!
Campbells has been a Scottish, family run business for over 100 years and are renowned for supplying a Michelin star quality range of fresh meat, fish & delicatessen products to household customers.
They want you to enjoy in the most convenient way the top quality meat supplied to Michelin star hotels and restaurants such as Tom Kitchin, Sheraton, Balmoral and Nick Nairn. When they say top quality meat, they mean great and tasty meat, customised and produced to the highest standard of animal welfare.
There are many places where you can buy your meat but Campbells sell premium quality meat, fish and deli and pride themselves in being the best online family butcher in Scotland.
So why buy from them? Because of the following reasons:
100% Freshness Guarantee - Always Fresh Never Frozen
All the fresh beef, lamb and pork on their website is guaranteed Scotch.
All of Campbells' meats are butchered in the traditional way, not on a production line. This makes a big difference to the quality and the taste remains consistent every time.
Campbells Gold is - their own brand of superior Scotch Beef
Only cattle born and raised naturally and predominantly grass fed in Scotland are used for Campbells Gold Beef and they have full traceability to farm and feed.
With Campbells you can choose from the whole range of beef, veal, pork, lamb, venison, poultry and fish prepared in a wide range of cuts and portion sizes.
If for any reason you are not completely satisfied with any of their products they will give you a full refund or a replacement for the same.
Amazing customer reviews on Trustpilot and brand endorsement from celebrity chef Nick Nairn.
What are you waiting for? Sign up to the Campbells Scottish Food newsletter or request their digital catalogue today to try their incredible meat for yourself - you won't regret it!
SORRY, THIS NEWSLETTER IS NO LONGER AVAILABLE
Front Cover Images of Campbells Scottish Food Newsletter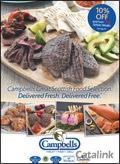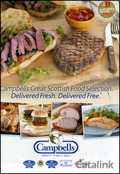 VIEW ARCHIVED NEWSLETTERS