CANOPIES UK CATALOGUE
Canopies UK are the number 1 manufacturer, installer and supplier of outdoor canopies in the UK.

Enjoy the great outdoors whatever the weather!

Do you find yourself kept indoors by the weather more than you'd like? Or do you want to give certain exterior elements of your house some added protection?

Canopies UK specialise in a range of domestic shelters for your home and garden – so that you can enjoy your external patio and garage spaces however and whenever you want.
Beat the weather – break free of the elements and start enjoying the outdoors
Style & value– different styles, options and prices to suit your requirements
Post free canopies– say goodbye to obstructing and ugly posts and pillars, meaning a more free flowing area
Hassle–free – low maintenance canopies mean you can enjoy the benefits without the hard work
10 year guarantee – because we are that confident in the design and manufacture
Call to action – have a FREE home survey and see how our products can transform your living space

Whether it be a carport, patio canopy, door canopy or walkway we have the products to suit. With over 25 years' experience and a dedicated sales and install team we are certain our company is perfect for you.

Take control of your open spaces with quality canopies to suit any home, budget and taste. Order your Canopies UK brochure now.


SORRY, THIS CATALOGUE IS NO LONGER AVAILABLE THROUGH THIS WEBSITE.
The Visual History of Canopies UK Catalogue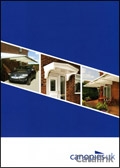 02 August, 2010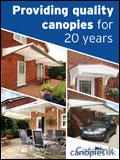 28 September, 2009