CARAMEL CLOTHING NEWSLETTER
Women's Clothing & Accessories Boutique
Caramel Clothing has a carefully edited collection of women's clothing from the best British and European brands. Sign up to their newsletter today to explore all they have to offer!
Their beautiful range of fashion is collated to give you a selection like no other - feel great all year round with their stunning range of brands, sizes and styles.
Shop your favourite brands - from Great Plains Clothing, White Stuff and Sandwich Clothing to Thought Clothing, Mistral Clothing and Garcia Jeans.
From stunning cardigans, winter jackets, swimwear and jumpers to gorgeous dresses, skirts, roll-up tops and so much more. Treat yourself to high quality fashion from incredible brands when you sign up the Caramel Clothing newsletter today!
Their accessory range includes a full selection of Joma Jewellery, shoes and boots from Superga and Cara London.
Looking for a gift? Explore candles, reed diffusers, make-up bags, bag charms, purses, scarves and handbags - whatever you're looking for, you can find it with Caramel Clothing.
Sign up to the Caramel Clothing newsletter today for updates, offers and new releases direct to your inbox!
SORRY, THIS NEWSLETTER IS NO LONGER AVAILABLE THROUGH THIS WEBSITE.
The Visual History of Caramel Clothing Newsletter
22 August, 2018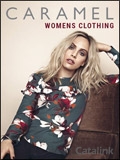 15 January, 2018