CARMA LONDON NEWSLETTER
We only produce a paper catalogue in the autumn but all year round you can sign up for e–Newsletters and updates, containing exciting offers and news, over the coming months.

For those of you who like to look good day and night Carma London has the perfect solution. The label offers beautiful pieces to sleep or relax in for the style–conscious lounge lover.

Carma London's online store has a cosy collection of sleepwear and loungewear that is classic with a modern twist and where the attention to detail; lace trims, pretty ribbons and top quality fabric make it special.

Pyjamas are also an ideal gift and orders are beautifully presented in sumptuous tissue and sticker and they can also be gift wrapped and delivered directly to the recipient.

SORRY, THIS NEWSLETTER IS NO LONGER AVAILABLE THROUGH THIS WEBSITE.
The Visual History of Carma London Newsletter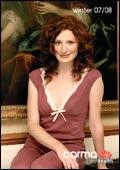 02 November, 2007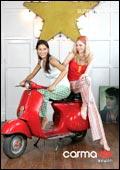 17 July, 2007