CELTIC AND CO CATALOGUE
Welcome to Spring / Summer at Celtic & Co.


Celtic & Co is a luxury British Brand, offering a wide range of footwear, clothing, outerwear and accessories made exclusively from the finest, all–natural fibres.

As those warmer months approach, Celtic & Co have handpicked a collection that is crafted from nature's finest materials, lovingly made for casual, easy living. Based by the beautiful coast of Cornwall and taking inspiration from the surrounding scenery, this season's range features a variety of fabrics that will suit every shade of spring and summer. Designed using a variety of indulgent fabrics, from crisp linen to sumptuous organic cotton, merino to Geelong lambswool, they handpick these premium fabrics to assure quality. Sourcing as close to the UK as possible, Celtic & Co work with manufactures who share these ethical values, which means consistent, superior quality is now synonymous with the brand.

Known as the sheepskin footwear experts, they pride themselves on their exceptional boots and slippers which are still, after 25 years, handcrafted in their workshop in Cornwall – the only ones you can buy that are manufactured entirely in the UK from 100% British sheepskin. Their sheepskin footwear is specially treated to be machine washable, double stitched to last a lifetime and feature hidden heel supports to stop slouching. For an added personal touch, they offer a bespoke option as well as a dedicated re–soling service, ensuring your boots are well maintained all year round.

So explore the timeless, casually–luxurious range at Celtic & Co, and with free returns on every order you can shop with confidence this spring.

Order your Celtic & Co. catalogue now.

SORRY, THIS CATALOGUE IS NO LONGER AVAILABLE THROUGH THIS WEBSITE.
The Visual History of Celtic and Co Catalogue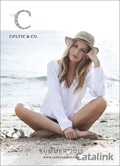 14 May, 2015

11 February, 2015
22 October, 2014

11 August, 2014