COCOON COLLECTION GIFTS NEWSLETTER
Cocoon collection - a one stop shop for present ideas!

There are a number of different types of need when thinking about present ideas. Sometimes it's because you want to treat them, buy them something with a real personal touch, a treat which truly does let them know that you've thought about what they like and don't like, and bought a birthday present they'll appreciate.

In other instances, people can find themselves in the position of feeling obligated to buy someone they don't really know that well something for their birthday - which can be a real challenge!

Cocoon Collection are here to help in the search for find the perfect present ideas, and wouldn't want you to be anything less than delighted with the reaction when it's handed over!
SORRY, THIS NEWSLETTER IS NO LONGER AVAILABLE
Front Cover Images of Cocoon Collection Gifts Newsletter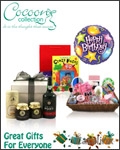 VIEW ARCHIVED NEWSLETTERS