COPPER CLOTHING - THE FUTURE OF PREVENTATIVE CARE
Copper-infused clothing for maximum comfort & protection!
Copper Clothing is pioneering the research and development behind copper-infused technology to revolutionise the way we tackle antibiotic resistance.
Their goal? To reduce the spread of infectious diseases through commercialising a range of high quality, durable, non-drug, non-invasive and affordable anti-microbial solutions.
So they bring you clothing that is designed to keep you fit and healthy - literally! Their copper-infused fashion is made to reduce the spread of bacteria. Find amazing clothing that is truly revolutionary when you sign up to their newsletter today!
The team at Copper Clothing are dedicated to providing their customers with a personal service, supplying a vast range of high-quality copper infused products that have been vigorously tested to bring you the comprehensive range of benefits copper has to offer.
Their range is extensive and revolutionary, bringing you everything from five-toed socks and compression socks to copper pyjamas and boxer shorts.
Research shows that copper kills superbugs, it's durable and will last you the lifetime of the product - what more could you want?!
Discover their range of homewares and pet supplies - all copper infused so that you don't have to worry about those nasty bugs. From bed sheets and dog beds to eye masks and blankets, there's so much to explore when you shop with Copper Clothing.
Sign up to the Copper Clothing newsletter today to discover all they have to offer and receive member only deals and updates on unique copper-infused clothing.
SORRY, THIS IS NO LONGER AVAILABLE
Front Cover Images of Copper Clothing - The Future of Preventative Care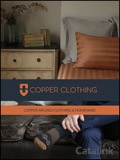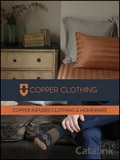 VIEW ARCHIVED S