COSTA CRUISES BROCHURE
Now more than ever, people are discovering the all–inclusive pleasures of a cruise holiday. Cruising is the best holiday value and Costa offers a cruise to suit every taste and every budget. Your cruise fare includes your meals, cabin, on–board activities, entertainment and transportation from port to port. Families, friends, couples, singles and honeymooners alike are sailing away for the holiday of their dreams and eliminating the hassles of planning a holiday.

A cruise is one convenient holiday where you won't have to worry about catching your next flight as you travel from one destination to another, packing and unpacking your bags or making dinner or nightclub reservations. You'll find that a Costa Cruise ship is a floating resort offering every comfort, convenience and amenity that one could imagine.
SORRY, THIS BROCHURE IS NO LONGER AVAILABLE THROUGH THIS WEBSITE.
The Visual History of Costa Cruises Brochure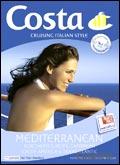 01 November, 2005