CRUISE & MARITIME VOYAGES BROCHURE
Cruise & Maritime Voyages 2017 & winter 2017/18
The cruise programme is packed with a wonderful choice of 80 exceptional value cruising holidays aboard their classic cruise ships, the 800 passenger Marco Polo and 700 passenger Discovery. They are the ex–UK no fly cruise specialists with a choice of sailings from seven UK ports including Harwich and Tilbury, providing greater convenience for those living in Essex and East Anglia.
High Praise Indeed – Since their launch in 2009 they will have carried over 120,000 mainly British cruise passengers with 95% of their guests rating the enjoyment of their cruise experience either excellent or good. High praise indeed! Just tune in to CMV TV, or visit their website and see for yourself what their customers are saying about their cruising experience with them.
Traditional British Cruise Experience – they believe their smaller more intimate classic ships offer a more leisurely and traditional home from home country house style of cruising with the emphasis very much on personal service and going that extra mile.
Good old fashioned Customer Service – They are committed to providing the highest levels of good old fashioned customer service and our highly trained cruise consultants take great pride in offering the very best advice and assistance from the moment you or your travel agent contact them.
SORRY, THIS BROCHURE IS NO LONGER AVAILABLE THROUGH THIS WEBSITE.
The Visual History of Cruise & Maritime Voyages Brochure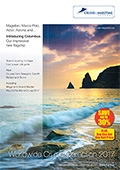 03 October, 2016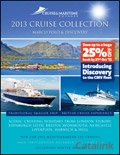 21 September, 2012