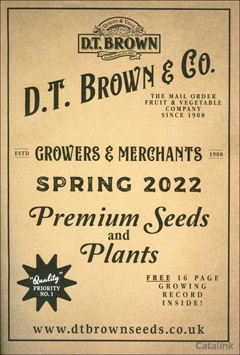 D.T. BROWN FRUIT & VEGETABLES CATALOGUE
To order the D.T. Brown Fruit & Vegetables Catalogue, simply click the Request button below.
Request Catalogue
The Mail Order Fruit And Vegetable Company!
D.T.Brown bring you a huge range of high-quality gardening seeds, plants and much more. The DT brown seed catalogue is filled with amazing varieties of seeds.
They sell and deliver all the veg, flower and fruit you need to make your garden or allotment a success, offering great value for money and exceptional quality. Along with a tried and tested selection of tools and equipment on offer, you can be rest assured knowing that your plot will be in great condition this season!
New for this year are 40 varieties of vegetable and flower seeds, as well as many other exclusive plant introductions including spring planting onion 'Brown's Golden Globe' and 'Poulton's Red' - a deliciously sweet rhubarb. They have also increased their range of 99p seeds to include many more customer favourites!
Their helpful growing tips and an enormous range of high-quality plants and seeds will have you making the most out of your plot and planting with confidence. All seed orders (including their 99p range) are supplied with FREE seed labels and a FREE packet of trial seed.