DAMAR INDUSTRIAL MACHINERY CATALOGUE
Damar International Ltd. enjoys a unique position in the world's tool industry as a specialist supplier of quality hand tools, cutters, machinery and equipment to the wire industries. In addition to in–depth servicing the special needs of the U.K. market, the company has embarked on an adventurous yet highly successful international commitment, gaining recognition as the world's leading supplier in this market.

Sourcing from all the major manufacturers around the world, Damar International offers the most comprehensive range of tooling available anywhere, and exports to over fifty countries world–wide.

Damar International Ltd. is based in Leicester, England, with offices and showroom in Clipper Road and a purpose–built warehouse facility in Thurmaston Boulevard. These premises enable Damar to bring together the world's finest tools for your selection. Demonstrations can be arranged for a wide and comprehensive range of machinery and equipment to suit customers' individual requirements, including the working of customers' own wire.

An impressive 95% of main range tool orders are despatched the same day, earning Damar a reputation for a high level of efficiency and service.

Whether you are looking for cutters, nippers, croppers, tongs, pliers, etc. or larger capacity pneumatic or hydraulic units, Damar offers satisfaction at a realistic price.

Whatever your requirement for wire, cable, mesh, rod, bar, strand, spring, strapping, fencing, chain, etc. consult Damar International for a friendly, helpful and reliable solution.
SORRY, THIS CATALOGUE IS NO LONGER AVAILABLE THROUGH THIS WEBSITE.
The Visual History of Damar Industrial Machinery Catalogue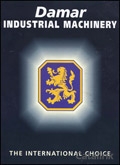 27 June, 2011