DAVPACK PRICE SMASH CATALOGUE
Davpack is a major UK supplier of quality packaging materials and a manufacturer of cardboard boxes. Latest catalogues and all products are available online on our secure e–commerce site. Industrial and retail packaging materials include:

Cardboard boxes and cartons
Postal packaging
Shrink & stretch film
Padded bags and envelopes
Jiffy bubble and foam
Protective packaging
Adhesive packaging tapes
Polythene bags & tubing
Handling equipment
Carrier bags
Digital scales & Cash registers
Racking, shelving & storage solutions

* Advanced systems – our advanced computerised ordering systems, finest quality products and recognised quality systems, ensure that Customers consistently receive the highest standard of service. The majority of products in our catalogues and on our web site are available from stock for immediate UK delivery.

* Custom products – we are able to supply a wide range of customised products, from custom cartons, inserts and board to printed bags and tape. All cartons are manufactured from superior grade, rigid flute, kraft board and to pre–programmed Fefco styles.

* ISO 9001:2000 Quality – Davpack is officially recognised as a quality service provider and our documented quality assurance system was accredited ISO 9001:2000 certification by the British Standards Institution.

* Quotations available – use the forms on our website or ring 01332 821200 if you require a quotation for a non standard product or large quantity.

* Save money with our quantity discounts – the more you buy the cheaper the product! Our aggressive banding discounts are calculated to ensure our products remain competitive against the stiffest competition. – so stock up now, you will save up to 30%.
SORRY, THIS CATALOGUE IS NO LONGER AVAILABLE THROUGH THIS WEBSITE.
The Visual History of Davpack Price Smash Catalogue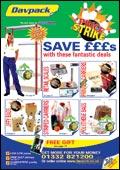 05 July, 2005