DECOR SUPPLIES NEWSLETTER
Designer Wallpaper & Home Decor
Decor Supplies is the best place to buy great home decorating products. With a selection of beautiful wallpapers, wall decor, fabrics and paint you're sure to find the perfect match when you sign up to their newsletter today!
Explore their incredible range of wallpapers - with a huge selection of colours, prints and styles, your focus wall will look stunning.
With a long history of delighting their customers with their great customer service, the experts at Decor Supplies will ensure that they'll help to bring the best in home style to your door with the minimum fuss.
Shop incredible brands, from Harlequin, Sanderson and Designers Guild to Blendworth, Clark & Clark and many more. Whatever your style, whatever room you're redecorating, you'll find the perfect match when you shop with Decor Supplies.
Choose from an extensive range of wallpaper styles such as floral prints, bright bold designs, nature prints and shabby chic styles.
Start planning your redecoration today - sign up to the Decor Supplies newsletter today to receive member only offers and helpful inspiration and design tips!
SORRY, THIS NEWSLETTER IS NO LONGER AVAILABLE THROUGH THIS WEBSITE.
The Visual History of Decor Supplies Newsletter
22 August, 2018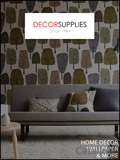 14 February, 2018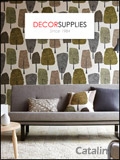 14 February, 2018