DIRECT TRAVELLER - TURKEY TOURS BROCHURE
Direct Traveller – your holiday starts here



Choose a holiday operator that has stood out from the crowd for 11 years.

Direct Traveller specialise in tailor–made holidays that deliver the spectacular experience you demand from your holidays. Whether a luxurious lounge on a Cypriot beach, a life–changing tour of Sri–Lankan wildlife or an immersive escape to Oman's ancient heritage, this range gives you what you need to craft your ideal trip.
From Cyprus, Turkey & Dubai to Oman & Sri Lanka
Winter breaks, beach–side sun, wildlife tours & family fun
Choose a package or just book flights, hotels & extras
Award–winning service, unforgettable holidays
Perfect for every budget
Your leading tailor–made specialists
Because your tastes are unique, they understand that every trip they book is different. With flexible packages and a host of extras, you can guarantee your holiday includes everything you expect.

Be inspired by getaways that cut to the core of your wildest holiday dreams – any time of the year.

Order your Direct Traveller brochure now to find out how easy it can be.

SORRY, THIS BROCHURE IS NO LONGER AVAILABLE THROUGH THIS WEBSITE.
The Visual History of Direct Traveller - Turkey Tours Brochure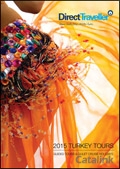 26 January, 2015