DISCOVER THE WORLD - ARCTIC VOYAGES BROCHURE
Discover the World offer a range of exciting voyages around Greenland, Canada and Spitsbergen. If you have a spirit of adventure, a curious mind and are seeking a holiday with a difference, then we believe than an Arctic voyage could be the holiday for you.

The Arctic encompasses a vast wilderness area of continent, ocean, islands and ice–sheets, lying north of the Arctic Circle. Parts of Canada, Alaska, Greenland, the Spitsbergen archipelago and Siberia all fall within the region, which unlike Antarctica, has been inhabited for thousands of years.

We hope our programme captures the essence of the Arctic region and the expedition voyages which explore it.
SORRY, THIS BROCHURE IS NO LONGER AVAILABLE THROUGH THIS WEBSITE.
The Visual History of Discover the World - ARCTIC VOYAGES Brochure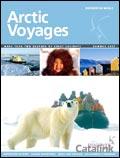 31 October, 2006