DISCOVER THE WORLD - RIDING IN ICELAND BROCHURE
A unique collection of specialist horse riding holidays to Iceland. Horse riding in Iceland offers two distinct features from other riding destinations. The first is the Icelandic horse itself. A pure breed with five gaits these are sure–footed animals that are gentle, spirited and eager to please the rider. Secondly, Iceland possesses some of the most unique landscapes in Europe. Rugged, beautiful and largely uninhabited, the sweeping glaciers and geothermal curiosities offer a great sense of being close to nature and its phenomenal power. Travelling through Iceland on horseback can only heighten this sense and provides an exhilarating way of experiencing the fantastic scenery. Combined with the expert riding knowledge of Icelandic horse specialist Ishestar, we believe this is the definitive brochure for Iceland riding holidays in the UK market.
SORRY, THIS BROCHURE IS NO LONGER AVAILABLE THROUGH THIS WEBSITE.
The Visual History of Discover the World - Riding in Iceland Brochure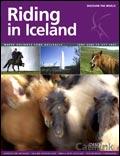 27 November, 2006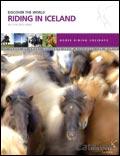 31 October, 2006