DUKESHILL FINE FOOD CATALOGUE
Mouth-watering gourmet foods delivered to your door
Sick of slimy, bland meats from the supermarket? Dukeshill will treat you to the authentic article.
Taste truly delicious dry cured hams, gammon joints, succulent bacons, a new salami range and a wide range of fish and deli products - all reared, treated and packaged with love and delivered straight to your door. What's more, the outstanding quality of this range is rivalled only by its value - helping you enjoy great-tasting, quality produce at better-than-supermarket prices!
Transform your meals with first-rate meat, fish & artisan produce
Environmentally-friendly production working closely with local farmers
Succulent hams, half or whole
Expertly cured bacon for the richest taste
Perfect for BBQs - delicious burgers, poultry & sausages
Smoked fish, seafood, artisan cheeses & more
Fresh produce delivered to you on the next working day
Save even further with the catalogue!
Order, view or download your copy of the Dukeshill catalogue now to enjoy delicious local meats and fish for less.
SORRY, THIS CATALOGUE IS NO LONGER AVAILABLE THROUGH THIS WEBSITE.
The Visual History of Dukeshill Fine Food Catalogue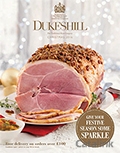 28 October, 2016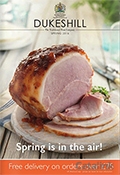 02 September, 2016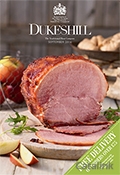 02 September, 2016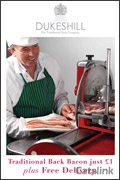 21 January, 2011