ELEGANT EXTRAS NEWSLETTER
Elegant Fashion Accessories, Gifts & More
Elegant Extras bring you a wide variety of fashion accessories and gifts for every occasion. Sign up to their newsletter today to explore all their great products!
With everything from ladies accessories, men's scarves and belts to children's ties, gifts and more, you'll be sure to find something perfect for everyone with them.
At Elegant Extras you can find great quality products at low prices. Find unique items that can't be found on the high street - the perfect present is right here.
The experts at Elegant Extras are dedicated to bringing you the most beautiful and great quality products. With their fantastic customer service, they can help you find the best product for your need.
If you're searching for that perfect gift for that special someone, they have what you need. With gifts for men, women and children, the options are endless.
Sign up to the Elegant Extras newsletter today to receive member only updates, exclusive offers and product releases direct to your inbox!
SORRY, THIS NEWSLETTER IS NO LONGER AVAILABLE THROUGH THIS WEBSITE.
The Visual History of Elegant Extras Newsletter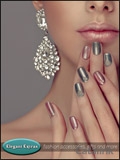 01 March, 2018