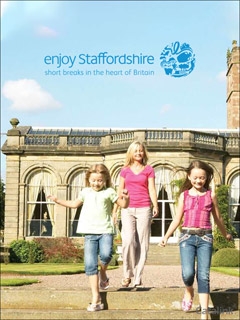 ENJOY STAFFORDSHIRE NEWSLETTER
www.enjoystaffordshire.com
To sign up to the Enjoy Staffordshire Newsletter, simply click the Request Newsletter button below and you will receive amazing special offers, discounts and access to secret sales.
Request Newsletter
Short Breaks in the Heart of Britain!
This is Staffordshire, where you will find breath-taking scenery, thrilling adventures, captivating history and heritage, tantalising menus and loads more!
Explore 1000 years of Staffordshire history in ancient cathedrals, medieval castles and magnificent stately homes, or potter around factory shops from world-famous brands.
Switch off as you wander around glorious gardens and along miles of stunning waterways, and immerse yourself in award-winning theatre productions in the round and the open air.
Staffordshire's packed with unforgettable days out and incredible adventures, so start planning your visit right now!
Sign up to the Enjoy Staffordshire newsletter today to explore all they have to offer and receive offers and updates on days out!