ESSENTIAL ACCESSORIES AND SPECTACULAR SPECTACLES CATALOGUE
We look forward to introducing you to our catalogue dedicated to ready reading specs and accessories for ladies and gentlemen.

Take your pick from our extensive range of reading specs, sunreaders, miniature specs and spec accessories. Ready readers are a brilliant back up to prescription glasses and our catalogue is crammed with zany designs in the most unexpected colours.

Try Susie's Saucy Specs in the wackiest colours – specs that fold up – specs in tubes – sunreaders for reading your book on the beach – some traditional designs – make up specs – cases – cords and accessories.

We offer a prompt and personal service and will be delighted to advise you.

If we are going to wear accessories and specs, let's make them fun accessories and specs!
SORRY, THIS CATALOGUE IS NO LONGER AVAILABLE THROUGH THIS WEBSITE.
The Visual History of Essential Accessories and Spectacular Spectacles Catalogue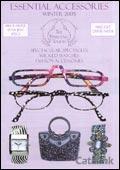 21 September, 2005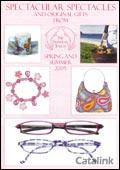 27 April, 2005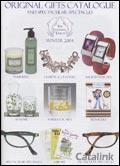 27 September, 2004