FINE ENGLISH SILVER & CUTLERY CATALOGUE
Lincoln House - STERLING SILVER, SILVER PLATED AND STAINLESS STEEL CUTLERY - Over the years Lincoln House has established a reputation for supplying the best English cutlery and we will be delighted to send you our brochure.

The Choice
We offer a magnificent choice of designs, a far wider choice than you will find in even the finest shops. Our brochures feature the classic English patterns and an exciting contemporary collection of the outstanding designs of the current era, plus a beautiful selection of sterling gifts.

All knives, forks, spoons and serving pieces can be bought individually and sets can be made up to suit personal requirements. If you own a set by another maker and wish to add to it or replace a missing piece, we will be pleased to assist you.

The Quality
We only work with the best cutlers . Our standards and specifications are exacting, only a small number of companies measure up to them - they are listed below. It is their expertise and pedigree that makes our collection the showcase of the very best.

The Value
Our aim is to offer our clients the finest cutlery at prices that are never undersold. We achieve this by supplying you direct and by dealing in volume on everything we sell. This ensures our prices are much better value than you will ever find in the shops - even when they have their seasonal sales. Our prices include VAT and UK delivery is free.

The Service
We are a family firm and are probably the most specialised suppliers in the country. When you call or write to us you will be dealing with someone who is knowledgeable and helpful - we have spent our careers working with these beautiful products and we look forward to helping you.
SORRY, THIS CATALOGUE IS NO LONGER AVAILABLE
Front Cover Images of Fine English Silver & Cutlery Catalogue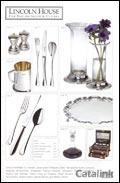 VIEW ARCHIVED CATALOGUES