FLYING FISH TRAINING COURSES BROCHURE
Flying Fish trains and recruits over 600 people each year to work as yacht skippers and as sailing, diving, surfing, windsurfing, ski and snowboard instructors. Courses are run in Australia, New Zealand, Canada, Greece, Egypt and the UK.

There is no age limit and the clasic Fish course mixes students of 18 with professionals in their forties and fifties. Courses range from two to 22 weeks and are available for complete beginners and for those who already have some experience.

Once qualified, take advantage of the free job placement and careers advice service that Flying Fish offer to source hundreds of job opportunities worlwide.
SORRY, THIS BROCHURE IS NO LONGER AVAILABLE THROUGH THIS WEBSITE.
The Visual History of Flying Fish Training Courses Brochure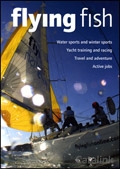 05 May, 2011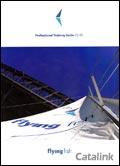 24 March, 2006