FOREX NEWSLETTER
Download your copy of "7 Easy Steps to Forex Profits" today

Sign–up now to receive your FREE report worth £10.99

Inside your free copy of "7 Easy Steps to Forex Profits" you'll discover:

How you could start picking up easy tax–free profits from the forex market starting with as little a 10p..

How to take the guess work out of forex trading and protect your profits using an overlooked loss limiter technique...

How to become an expert forex trader without having to spend all your time reading hundreds of forex guides and attending over–priced forex seminars...

And this exclusive guide also reveals the first and biggest mistake people make when it comes to making money from forex and how to avoid it.

But that's not all...

Plus you'll also receive Forex Round–Up, which is perhaps the first of its kind in the UK – a free email letter based exclusively on forex.

In your twice weekly issues of Forex Round–Up you'll find expert advice from forex experts who'll be giving you the very best advice on how best to play the forex market for maximum profits...

To request your FREE report and subscription to Forex Round–Up, click "Request eNewsletter" above.

SORRY, THIS NEWSLETTER IS NO LONGER AVAILABLE THROUGH THIS WEBSITE.
The Visual History of Forex Newsletter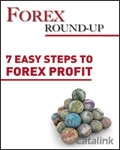 05 October, 2011