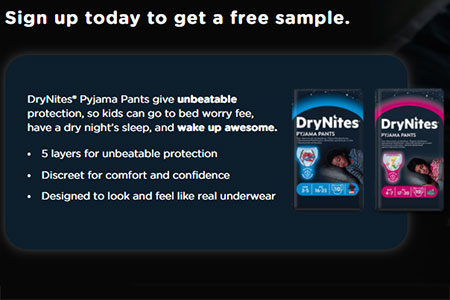 Like
Added On: 2021-02-15 02:40:40
Share On Facebook
Share On Twitter
Report Expired Offer
Huggies DryNites Pyjama Pants
These pants provide unbeatable protection. Kids get a great dry night's sleep and wake up feeling dry and ready to go!
Huggies recognise that bed wetting can be very stressful for children. These pants:
have five layers for unbeatable protection
are discreet to ensure comfort and confidence
are designed to look and feel like real underwear
When you opt in to receive your free samples, you can also get tips and advice on managing this bedwetting phase.