FREEDOM TOURING BROCHURE
Welcome to the world of Freedom Touring where we aim to offer you a great choice of motorcycle holidays and tours. Join us in our adventures as we ride through some of the most breathtaking scenery that the European continent has to offer... Freedom Touring was formed by a husband and wife who have both travelled and worked in Europe for several years. Their ongoing objective is to raise the standard of this type of holiday, providing better support, better hotel accommodation, clear and accurate route information, and provide a more personal touch to the whole experience. Rob, a biker for 28 years, appreciates fully the peace of mind sought after when undertaking a foreign tour. Breakdowns and other mishaps do occur occasionally, but uniquely, we are able to provide support in the form of our fully equipped support vehicle to cover most eventualities. Sandra, who mainly takes care of the customer service side of things, has always been keen to provide the female perspective and, of course, the pillions point of view!
SORRY, THIS BROCHURE IS NO LONGER AVAILABLE THROUGH THIS WEBSITE.
The Visual History of Freedom Touring Brochure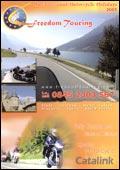 05 May, 2005