FREELANCE HOLIDAYS BROCHURE
As our name implies our holidays are intended to appeal to independent minded travellers of a 'freelance' disposition who enjoy the creative experience of putting together their own 'designer holiday' rather than settling for an off the peg package arrangement.

Our ethos has always been to offer customers excellent value for money, coupled with expert knowledge of our destinations and in depth information on each property. Additionally, we invariably include useful notes on the locale and other points of interest as well as the occasional humorous observation, as life's really to short to be serious all the time especially when it comes to holidays!

SORRY, THIS BROCHURE IS NO LONGER AVAILABLE THROUGH THIS WEBSITE.
The Visual History of Freelance Holidays Brochure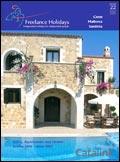 25 April, 2006