FREEWHEEL CRUISES BROCHURE
Freewheel Cruises – superb cruises on the rivers of Europe and Beyond...



This fantastic selection of cruising voyages will have you seeing Europe's highlights from its scenic waterways.

The varied selection of itineraries, routes, lengths and ships ensures you can always find a trip that sticks to your budget and ticks every box.

Enjoy fresh, authentic cuisine aboard ship, relax in open–air bars and look forward to enthralling excursions whenever you step ashore.
Rhine, Danube, Douro, Rhóne, Seine, Mekong, Mississippi – cruise these great rivers
Marvellous facilities & indulgent accommodation to keep you happy on–board
Enjoy special extras like return travel & added hotel nights on selected cruises
Years of travel expertise, 100% financial protection
Peaceful, beautiful, indulgent voyages
Fully stocked ships, a wealth of add–ons and flexible excursion options will ensure you enjoy a perfectly–balanced holiday every time.

Whether you want to relax, explore or soak up the scenery, choose Freewheel Cruises.

Discover the potential and request your Freewheel Cruises brochure now for the holiday of a lifetime.

SORRY, THIS BROCHURE IS NO LONGER AVAILABLE THROUGH THIS WEBSITE.
The Visual History of Freewheel Cruises Brochure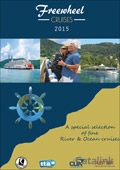 30 October, 2014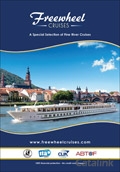 16 October, 2014