FRIENDS OF THE EARTH NEWSLETTER
Friends of the Earth Shop – see things differently, protect our world


What worries you? Is it work, family, friends or money?
Or is it the health of our planet?

Conserving the natural balance and ecological harmony of the world in which we live affects us all. Ordering this catalogue helps you contribute towards the invaluable task of protecting the Earth and its species from industrial climate change and greedy energy companies.

Changing the way you live also means being very careful about the things you buy and this catalogue has an impressive range of specially selected eco–friendly and fairly traded gifts and household goods from a spectacular product range and from a charity dedicated to doing good.
Create a beautiful garden with tools, equipment & accessories
Craft a must–have wardrobe for all the family
Give gorgeous gifts with meaning
Toys and games for the kids
Exciting extras to keep you inspired
Affordable prices to help you live sustainably
Give back to the Earth when you buy for yourself
Quality products don't have to come at a natural expense – this range shows that affordable, superior shopping exists.

Show your love for the planet and your support for projects that tackle irresponsible practices.

Order the Friends of the Earth Shop catalogue now to help preserve the wonderful world we live in.



*** PLEASE NOTE THE NEXT ENEWSLETTER MAILING WILL BE IN AUGUST 2015***

SORRY, THIS NEWSLETTER IS NO LONGER AVAILABLE THROUGH THIS WEBSITE.
The Visual History of Friends of the Earth Newsletter

03 September, 2014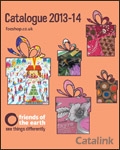 17 September, 2013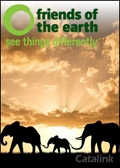 15 August, 2013