G ADVENTURES - CENTRAL AND SOUTH AMERICA BROCHURE
From the spectacular glaciers in Patagonia and the otherworldly Salar de Ulyuni Bolivia to the reggae vibe of Jamaican beaches and active volcanoes in Costa Rica, this brochure delivers the Americas. There are choices in trip styles, comfort zones and activity levels. So your sister's friends can rough it YOLO–style through the Andes, your aunt will be comfortable on her way to Machu Picchu and you'll be on the top of the world trekking to remote Incan ruins.

G Adventures is a world leader in the adventure travel industry offering small group adventures on all seven continents and beyond to more than 85,000 global travellers annually.

The award–winning trips, which focus on culture, nature and active travel, are ideal for those with a sense of adventure, people who want to leave the beaten path and authentically immerse themselves in a local culture or environment to experience the real world in a sustainable manner.


img src="/images/g_adven_more.jpg" border=0 alt="G Adventures">
SORRY, THIS BROCHURE IS NO LONGER AVAILABLE THROUGH THIS WEBSITE.
The Visual History of G Adventures - Central and South America Brochure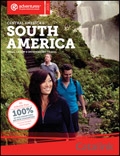 16 January, 2013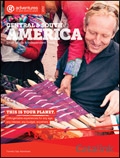 22 November, 2011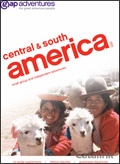 22 June, 2011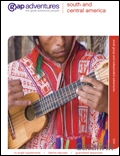 14 January, 2010