G BALDWIN AND CO. HEALTH SUPPLEMENTS CATALOGUE
Whether you're a long established believer in natural products or a new convert looking to learn, order your G Baldwin & Co's 2013 Catalogue today and start your journey to a healthier you.

Fancy trying a new herbal tea but is your local supermarket thin on choice? Or are you in the market for a new brand of natural antioxidants? Maybe you've just given birth and you want to start your child out on a healthy path. G Baldwin & Co's 2013 Catalogue will give you the the range and specialisation necessary to make the right choice for you. Their products include everything from medicinal supplements and skin care products to ointments and superfoods and will have you feeling great in no time – whether you're a man, woman or buying for your baby.

Maybe instead you're looking for a way to de–stress after a long day's work? With a wealth of aromatherapy products, including candles, roll–ons, floral waters and essential and carrier oils, you can wave goodbye to a world of tension and welcome the new and improved relaxed you. And remember, with a range of box–sets available, that elusive gift–choice is now closer than you think.

If natural ingredients and healthy living are essential to your daily lifestyle then G Baldwin & Co's are the retailers for you. With a huge selection of different products to choose from you'll be spoilt for choice – whether searching for something obscure or browsing for something new.

SORRY, THIS CATALOGUE IS NO LONGER AVAILABLE THROUGH THIS WEBSITE.
The Visual History of G Baldwin and Co. Health Supplements Catalogue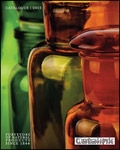 05 July, 2013