GAMEPLAY CATALOGUE
Gameplay are the UK's largest mail order and online games specialists. With amazing prices and unbeatable customer service, Gameplay is the first choice for all things gaming.

Choose from thousands of products for PC, PlayStation 2, Xbox, GameCube, Game Boy Advance, Nintendo DS, Sony PSP.
Pre order new releases and have them delivered to your door on the day of release!
Gameplay offers FREE UK DELIVERY on all game orders.
Save money on high street prices. All games £29.99 or less.
Order with confidence – online, by phone, fax or post.
SORRY, THIS CATALOGUE IS NO LONGER AVAILABLE THROUGH THIS WEBSITE.
The Visual History of Gameplay Catalogue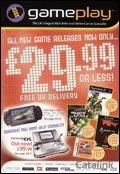 09 March, 2005