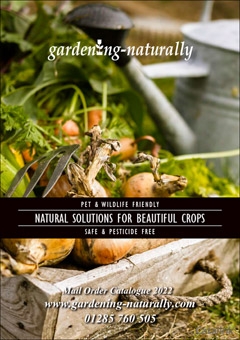 Tweet
Follow GARDENING NATURALLY on Twitter
Gardening-Naturally
- 16 hours ago
Today is World Plant A Vegetable Garden Day 🌱 How is your vegetable garden looking? Share a picture and tag us! https://t.co/TQ2oEdHzWh
Gardening-Naturally
- 1 week ago
🐛All About Nematodes🐛 In this weeks blog find out more about Nematodes and how they can help your garden or allotm https://t.co/x8knEsfGot
Gardening-Naturally
- 1 week ago
Get 30% OFF Fire Pits for the whole of May! Choose from our 50cm, 60cm or 80cm cast iron fire pits to add warmth a https://t.co/GlTbwBysCs
Gardening-Naturally
- 1 week ago
⭐️⭐️⭐️⭐️⭐️ A lovely review of our Garden Hoop Tunnels and Soft Butterfly Netting. The perfect way to cover your cr https://t.co/rgByyPlxRp
Gardening-Naturally
- 2 weeks ago
🌱 May Gardening Jobs Checklist 🌱 Find out what jobs need doing in your garden this month. Including flowers, fruit https://t.co/ZBY7kSnC0f
GARDENING NATURALLY CATALOGUE
To order the Gardening Naturally Catalogue and receive their Newsletter, simply click the Request button below.
Request Catalogue
Organic Garden Products
Gardening Naturally provides a beautiful range of natural and organic crop protection products enabling gardeners to grow fruit and vegetables without pesticides. Order a free copy of their catalogue today to explore their range!
Keep your plants safe from pests Their specialty is natural and organic solutions for pest control. They stock the whole range of nematodes for protection against slugs, vine weevil, leatherjackets, ants, chafer grub plus the mixture for fruit and vegetable growers.
Once you have stopped the pests from eating your crops remember to feed and nourish them with their fertilisers and feeds.
Explore their range today - whether it's fruit & veg cages, plant & garden care, watering & pond care or home wares & gifts, you can find everything you need with them.
They pride themselves on excellent customer service, and only supply products that they feel are of the utmost quality, are reliable and have true value for money.
Order a free copy of the Gardening Naturally catalogue today!