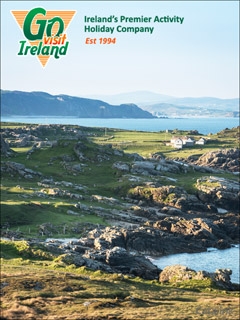 GO VISIT IRELAND NEWSLETTER
To sign up to the Go Visit Ireland Newsletter, simply click the Request Newsletter button below and you will receive amazing special offers, discounts and access to secret sales.
Request Newsletter
Walking, Biking & Activity Holidays in Ireland
Go Visit Ireland invites you to get out and explore Ireland, pick from a range of exciting tour options to create the perfect break for you. Sign up to the newsletter to get the latest news and offers today!
Walk up and conquer the impressive Holy Mountain and enjoy sightseeing on the Galway and Mayo walking tour, explore country lanes, bog roads and Atlantic coastal paths. Why not create your own independent walking holiday, Go Visit Ireland will provide you with the routes, maps and all the support you need to explore the best of each area!
Take a cycling holiday and experience the Highland of Donegal, a hidden gem that offers spectacular landscapes and beautiful beaches. If you want to get a mix of everything the Clare and The Burren cycling tour has a terrific variety of landscapes.
Small intimate groups with experienced local guides ensure that you get a chance to discover the hidden, untouched spots on this ancient island. You won't miss a thing!
Sign up to the Go Visit Ireland Newsletter today for inspiration on your active adventure in Ireland!