GOAT FASHION NEWSLETTER
Luxury clothing made from cashmere, wool & silk
Goat is a London-based women's wear brand founded by Jane Lewis in 2001. The brand started as a capsule collection of cashmere pieces-hence the name Goat and has developed into a complete ready-to-wear collection made from the finest cashmere, silk and wool. Sign up to their newsletter today to discover their incredible pieces.
Goat clothing has fast become the go-to brand for stylish investment pieces which truly endure, thanks to classic tailoring, attention to detail and luxurious materials.
Classic silhouettes and wardrobe staples are elevated above the conventional by clever colour palettes and inspired little touches. British style is characterised by its diversity, by its freedom.
The key to Goat's success is its self-assured brand identity; its 'handwriting'. Goat represents understated elegance for stylish, discerning women.
Sign up to the Goat Fashion newsletter today for updates and deals on gorgeous cashmere, silk and wool clothing.
SORRY, THIS NEWSLETTER IS NO LONGER AVAILABLE THROUGH THIS WEBSITE.
The Visual History of Goat Fashion Newsletter
05 March, 2019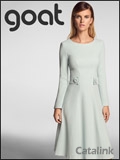 20 November, 2017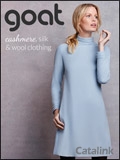 17 October, 2017