GOLDEN CHARTER - LATER LIFE PLANNING CATALOGUE
When you take out a Golden Charter Funeral Plan, you have the reassurance that your money is protected.


A funeral plan is a secure and cost effective way to organise your arrangements in advance, specify your wishes and take care of the costs.

An easy way to do something amazing for your family
A plan can save your family worry and expense, and help make things easier for your loved ones at a difficult time. When the time comes, just one phone call to your funeral director is all that's needed to activate your plan.

Explore Golden Charter's Legal Services
In addition to funeral plans Golden Charter also offer a range of later life planning legal services, designed to help you take control, protect your assets and plan ahead in the way that's right for you.

As a trusted provider of legal services, we can help you ensure your final wishes for your estate (your home, your savings, your pension and personal belongings) are carried out quickly and easily.

Request your Golden Charter Catalogue today

SORRY, THIS CATALOGUE IS NO LONGER AVAILABLE THROUGH THIS WEBSITE.
The Visual History of Golden Charter - Later Life Planning Catalogue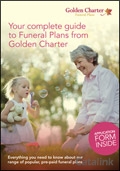 09 June, 2015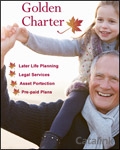 08 June, 2015