GOLDEN EAGLE LUXURY TRAINS - HEART OF PERSIA BROCHURE
Luxury Train Journeys Through Persia
Golden Eagle Luxury Trains provide unforgettable train rides through some of the most exciting parts of the world. Request the Heart of Persia Brochure today for inspiration on your adventure!
The Heart of Persia tour is a 2-week exploration of the most beautiful parts of Iran where you can immerse yourself in the fascinating culture of Persia. Highlights of the tour include a visit to the breathtaking Crown Jewels Museum and seeing world heritage sites like the Persepolis.
Explore Rayen to see the enormous castle situated beneath the snow-capped Mt Hezar. The journey continues in Mahan where you can discover the Prince Garden and tomb all part of the grand royal building.
Admire incredible scenery as you meander through the mountainous landscapes in Dorud. There are unmissable trips to the Ruins in Shustar too!
On board the luxury Danube Express you'll get top-of-the-range entertainment and accommodation along with inclusive food and drink.
Prices start from £11,795 per person
Request the Golden Eagle Luxury Trains - Heart of Persia Brochure today to join the adventure!
SORRY, THIS BROCHURE IS NO LONGER AVAILABLE THROUGH THIS WEBSITE.
The Visual History of Golden Eagle Luxury Trains - Heart of Persia Brochure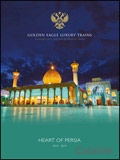 21 February, 2019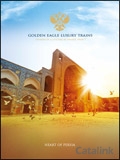 24 May, 2017