GOLDEN EAGLE LUXURY TRAINS - THE SILK ROAD BROCHURE
Luxury Train Journeys on The Silk Road
Golden Eagle Luxury Trains provide voyages of a lifetime by private train. Request The Silk Road Brochure today for inspiration on your next adventure!
The Silk Road luxury tour is a 21 day exploration encompassing incredible areas of China, Kazakhstan, Russia and Turkmenistan. You'll see magnificent yet little visited sites and oasis cites from the ancient world.
Visit Khiva in Uzbekistan, founded 2,500 years ago this world heritage site boasts unbelievable photo opportunities. There's beautiful architecture displayed in mosques and madrassas inside the ancient walls of Khiva.
Highlights of the tour include evening drinks on the delightfully lit Registan Square and riding camels through the sand dunes to Dunhuang's Cresnet Moon Lake.
Travel in comfort on an Golden Eagle train where you can expect top of the range cabins with en-suite facilities and 24-hour cabin attendant service.
Prices from £19,995 per person.
Request the Golden Eagle Luxury Trains - The Silk Road Brochure today to start your journey here!
SORRY, THIS BROCHURE IS NO LONGER AVAILABLE
Front Cover Images of Golden Eagle Luxury Trains - The Silk Road Brochure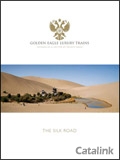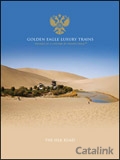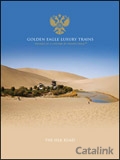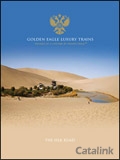 VIEW ARCHIVED BROCHURES