MUSIC & MEMORIES
Start ticking items off your Christmas list at Goodmusic.co.uk, with FREE DELIVERY on all orders over £5.

Goodmusic.co.uk is dedicated to bringing you the music and movies of your memories. Singing stars, big bands, great orchestras, inspiring choirs – we specialise in hard to find recordings.

Goodmusic.co.uk is the online counterpart to our monthly mail order catalogue, Music & Memories.
At Goodmusic.co.uk you will find all of our newest music and DVD releases. We have put online a number of products that you may not be able to find anywhere else. The deeper you go into Goodmusic.co.uk, the more memories and treasures you will discover.
SORRY, THIS CATALOGUE IS NO LONGER AVAILABLE THROUGH THIS WEBSITE.
The Visual History of GoodMusic.co.uk - Music & Memories Catalogue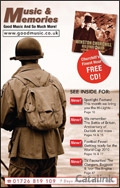 19 May, 2010
16 July, 2009
01 April, 2009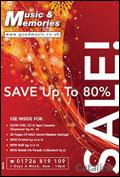 28 January, 2009