GOODWILL CATALOGUE
The trading companies of eleven leading charities have come together to create one catalogue from which they can all benefit, with pages of great gift ideas for you to choose from.

When you choose an item from a charity's collection of cards or gifts the profits from your purchase will benefit that charity. When you make a choice from elsewhere in the catalogue, all the charities benefit equally.

Christmas is a time for giving and we hope you'll enjoy choosing your cards and gifts from Goodwill for all your family and friends. Remember, every purchase you make from the catalogue really will make a difference.

Charities represented are:

NSPCC; RSPB; Multiple Sclerosis Society; RSPCA; Mencap; Diabetes UK; British Red Cross; Shelter; Whale & Dolphin Conservation Society; Cancer Research UK; British Heart Foundation.

SORRY, THIS CATALOGUE IS NO LONGER AVAILABLE THROUGH THIS WEBSITE.
The Visual History of Goodwill Catalogue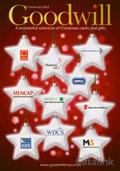 26 August, 2003