GROWELL
What better way of nurturing your plants and furthering your horticultural knowledge than to trust in the range and expertise of Growell's extensive growing products? With a vast array of specialist growing kits, nutrients, fans, filters and accessories, your every plant–growing need is sure to be met whatever your preference or experience.

Whether you're looking to increase a particular yield, nurture of specific plant range or simply want to experiment with a variety of different growing techniques, Growell's complete grow kits are an ideal way to begin. Featuring complete hydroponic, propagation, coco and soil kits, you'll be getting started in no time.

Their catalogue also includes a range of nutrients and boosters, including specific products for vegetables and flowers – for when your plants need that extra bit of help. If you have all the ingredients and tools but find yourself lacking in the system or environment in which to grow them in, Growell's won't disappoint. With carbon filters, extraction fans and humidity regulators, as well as a vast variety of trays, pots and even irrigation pumps, you'll be getting to work immediately – especially as the catalogue also features a section on grow–room tools and specialist lighting.

If you've found yourself providing your plants with the perfect environment and ideal growing conditions only to have them struck down by invaders and disease, why not browse through Growell's pest and health section. Whether you're in the market for repellents, multi–purpose pest controls, natural defence products or bug blockers, you'll never again have to suffer the bitter sting of plant disease or rogue trespassers.

So to meet the need of every indoor gardener, whether amateur or professional, order your Growell catalogue now.

SORRY, THIS CATALOGUE IS NO LONGER AVAILABLE THROUGH THIS WEBSITE.
The Visual History of Growell Hydroponics Catalogue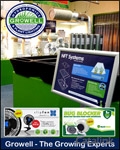 17 July, 2013