To request a printed copy of the Guide Dogs for the Blind legacy pack, simply click the order button below and one will be sent to your registered address.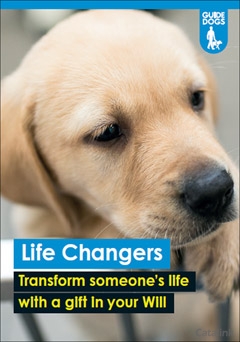 Become a Life Changer - Request your pack & DVD
"You have guided me out of harm's way and you have guided me back into my life. You are more than 'just' my guide dog. You are my mate, my saviour and dare I say it...my hero."
This is guide dog owner, Rachel's message to her dog, Samson.
For over 80 years Guide Dogs has been creating life–changing partnerships just like Rachel and Samson's – giving people back their confidence, freedom and independence by training and providing life changing dogs; this pack will help you become a life changer too. A guide dog enables people with sight loss to live their life to the full and enjoy the same freedom of movement that we all do.
With two out of every three guide dogs only made possible thanks to gifts left in Wills – request your Life Changer Pack and DVD to find how you can become a life changer and help create more guide dog partnerships, just like Rachel and Samson's.