GUIDE DOGS - FREE WILL GUIDE
Find out how you can make your Will for free and help provide the guide dogs of the future.
You never forget the dogs you've loved and the precious bond you shared with them. By writing or updating your Will for free, you can help create that bond for someone who truly needs it.
For somebody living with sight loss, the relationship with their guide dog is not only precious but also life-changing. Guide dog owner Yvonne explains: "Before Aussie I was scared to go out on my own. But with my guide dog Aussie I don't need to be scared at all; he looks after me very well."
By creating these powerful guide dog partnerships and through our wider services that support adults and children who are visually impaired, we can provide a future where every person with sight loss has the confidence and support to live their lives to the full.
Request your free Will guide for information on how you can write your Will for free. You'll also receive a fascinating insight into the early life and training of these amazing dogs and how they become life-changing companions.
SORRY, THIS IS NO LONGER AVAILABLE
Front Cover Images of Guide Dogs - Free Will Guide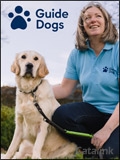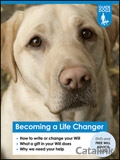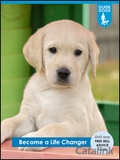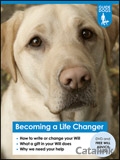 VIEW ARCHIVED S