HARROD HORTICULTURAL - GARDEN CATALOGUE
Harrod Horticultural is a division of Harrod UK Limited, and their reputation for product design and development is second to none.

As passionate gardeners like you they appreciate how important it is to have quality garden products at your fingertips and the comprehensive range within the free Harrod Horticultural catalogue, and on their website, ensures that you have a useful companion throughout the gardening months.

New for 2013 Harrod Horticultural are proud to introduce their exclusively designed, RHS endorsed, Superior Garden Structure Collection. The collection features arches, pergolas, obelisks and plant supports designed to create a maintenance–free, dramatic centerpiece for year after year enjoyment.
As you look through the catalogue pages you will find their exclusively designed fruit and vegetable cages, many crop protection solutions including netting and cloches, whilst the new raised bed, container gardening, watering and composting ideas have been introduced to help you achieve a stronger healthier crop yield. Don't miss the Sneeboer tool range either – the hand–made stainless steel tools for serious gardeners.

The two cornerstones of gardening knowledge are experience and learning – just think how many tips you've picked up from speaking to fellow gardeners and watching others down at the allotments – and as they want you to get the very best out of the products they manufacture and supply, they've comissioned a specialist gardening film crew to create a series of short video clips featuring 30 of their most popular products – including fruit cages, raised beds, wormeries and fruit presses – with the vast majority filmed in and around Stephanie's Kitchen Garden. These can be found on their website.

Why not order your FREE Harrod Horticultural catalogue now and start enjoying great ideas for a successful gardening year.
SORRY, THIS CATALOGUE IS NO LONGER AVAILABLE THROUGH THIS WEBSITE.
The Visual History of Harrod Horticultural - Garden Catalogue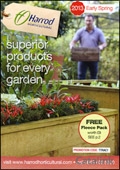 13 February, 2013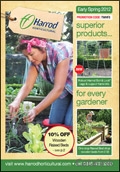 14 February, 2012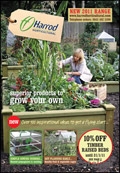 19 January, 2011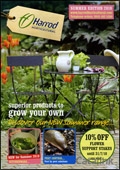 12 August, 2010