HORN - CRAFTING, QUILTING AND SEWING FURNITURE CATALOGUE
Horn furniture is the ideal solution to the problems that face sewers, quilters and other keen crafters!

Their innovative furniture units are designed to provide the maximum in sewing and crafting comfort while you work. As they pack up neatly when not in use, you'll never feel like your hobby is taking over the house.

All their designs also include an airlift which means your sewing machine will be flush with the surface of the table - helping you to avoid unsightly bunching of material and ensuring a more comfortable sewing position.

Most of their models also include storage, meaning you can keep all your threads, bobbins and needles within easy reach, in an organised fashion - no more hunting through your sewing bags and boxes!

Horn's quality of product and customer service is second to none - all the products are supplied fully assembled, they even provide their own delivery service and hold all their furniture to these standards:
Ample use of large castors. This isn't just for easy mobility it's also for stability too!
Good fixings, parts & construction - designed to last!
Solid backs and bases. Stability and strength are guaranteed by this feature.
After having to slave for years on any table handy, breaking your back sewing at incorrect heights or putting up with complaints that you're taking over the house - using it will be pure bliss. Isn't it time you owned a Horn?

Order a brochure today to view the full range on offer!

SORRY, THIS CATALOGUE IS NO LONGER AVAILABLE
Front Cover Images of Horn - Crafting, Quilting and Sewing Furniture Catalogue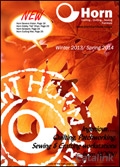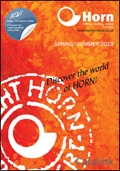 VIEW ARCHIVED CATALOGUES