HOUSE OF BATH CATALOGUE
House of Bath was part of JD Williams & Company Limited, amongst the UK's leading direct home shopping companies, with more than 20 successful UK catalogue brands. House of Bath specialise in products for the home, with a wide array of furniture and accessories for each room in the house.
For the bathroom the House of Bath catalogue features cosy textiles including towels, bathmats and wraps, clever storage with great space saving ideas and accessories which are decorative and helpful in every way.
The stunning bedroom range in the House of Bath catalogue is a beautiful collection of bedding ideas including duvets, toppers and pillows, bedspreads and gorgeous bed linen, delightful furniture for all your bedroom needs, and accessories both pretty and practical to adorn your room of tranquility.
For the living room you will find a superb range of furnishings and practical ideas from exclusively designed furniture to solutions for study and storage, tables and seating. Luxurious soft furnishings including rugs and runners, curtains and covers, and thoughtful solutions for heating and lighting. Plus finishing touches, such as room dividers, pictures and stained–glass firescreens in the House of Bath catalogue.
In the kitchen department – you'll be spoilt for choice by our selected ranges for all your needs from cookware to textiles, dining to furniture and electrical to laundry we've got it all covered.
You'll find lots of useful, and sometimes unusual, items for all parts of your house, whether it be bathroom, bedrooom, lounge or kitchen - there is even a handy section for entrance & hall accessories and accents. In the "Fashion & Accessories" section you'll find everything from Coats & Jackets to Dresses & Skirts, Footwear & Accessories, Jewellery & Watches and much more. Other sections include "Estate & Garden", "Travel & Leisure", and also a "Health & Beauty" category, amongst several others.
House of Bath History
Established in 1998, House of Bath is a principal UK-based home shopping brand. It offers its customers home products and solutions that are unique and hard to find. In 2004, J D Williams acquired the company. Shoppers can browse different collections of home items, furniture, bedding, home solutions, outdoor products, clothing, electricals, gift items, and health and mobility goods.
How to Order the House of Bath Catalogue
To request a catalogue, shoppers can click "Request a Catalogue" found at the bottom of the House of Bath homepage. Shoppers will receive the requested catalogue in 7 days.
How to Register for a House of Bath Account
To register online, click on "MY ACCOUNT" and then "REGISTER". Click "New Online Customer" on the next page. Provide the required personal details and address.
How to Place an Order at House of Bath
To order an item, the customer must specify the correct size, fitting, colour or quantity, whenever appropriate. There are certain items that can be personalised. Once the customer is pleased with the selections, the customer can click "Add to Bag". Information on availability and delivery options will be displayed, along with proposed alternatives. Details on extended warranty will also be displayed, if available.
House of Bath Promotion Code
House of Bath promotion codes entitle customers access to incredible gifts and discounts. Promotion codes should be entered on the "Add Promotional Code" box in the Shopping Bag. The "Apply" button must be clicked. Only one promotional code can be applied in every order.
How to Pay for an Order at House of Bath
Delta, Maestro, MasterCard or Visa cards to pay for their orders. All card payments are protected through MasterCard SecureCode or Verified by Visa.
House of Bath Personal Account
Through a House of Bath Personal Account, customers can:
Track their orders
View the amount of their next minimum payment
Access quick and easy payment
Check upcoming payments by due date
Check their latest balance
House of Bath Personal Account Protection
Personal Account Protection helps customers with:
Purchase protection against loss, theft or accidental damage
Payments if they are made redundant
Payment coverage if they get involved in an accident or fall sick
A 24-hour access line to free legal advice
Outstanding balance payment up to £5,000 if the customer passes away
SORRY, THIS CATALOGUE IS NO LONGER AVAILABLE
Front Cover Images of House of Bath Catalogue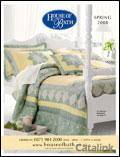 VIEW ARCHIVED CATALOGUES