I LOVE CASHMERE
If you want to feel only the smoothest and softest fabric on your skin at all times, I Love Cashmere will spoil you with their stylish and exquisite range of cashmere products. Featuring a wide array of choices for both men and women, you can look forward to feeling snug and looking great wherever you go.

There are few products more indulgent than the luxury of high–quality cashmere. An exclusive natural fabric that is both warm and light, not to mention exceptionally soft, cashmere yarn offers some of the best results when it comes to creating extravagantly delicate clothing.

I love Cashmere boasts a spectacular collection which ranges from hats, gloves and pashminas to jumpers, hoodies and tops. Their expert designers have crafted a variety of contemporary and classical looks and styles so you can customise and accessories to suit your own preferences. Why not fashion your own spin on an already timeless look and create an outfit from a chic, black v–neck cardigan? With so many options, the choice is yours.

Their quality and versatile men's collection will enhance your existing wardrobe with a variety of casual, leisure and formal wear items. Choose from a range that includes sleeveless tops for style and practicality, luxurious reversible hoodies – for when you need a quick change of outfit – as well as classic round, crew and v–neck jumpers.

You can rest assured that I love Cashmere's meticulous sourcing, production and design will guarantee only the highest quality products to ensure you can relax in comfort, style and pure indulgence.

To keep up–to–speed on new designs, products and offers, sign up to the I love Cashmere newsletter and enter a world of deluxe fashion.
SORRY, THIS NEWSLETTER IS NO LONGER AVAILABLE THROUGH THIS WEBSITE.
The Visual History of I Love Cashmere Newsletter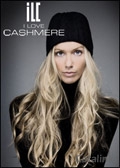 15 August, 2013

02 December, 2008