IDEAL STANDARD ART & DESIGN CATALOGUE
Art & Design brings together a special collection of products representing the highest quality design and the latest technology and engineering from across Europe. Each piece, only available from selected retailers, is the culmination of a lengthy design process involving many award–winning designers providing excellence in form and function.

Idea Standard has been commissioning renowned designers such as Franco Bertoli and Robin Levien RDI to design bathroom porcelain, taps and mixers for many years. More recently, other international designers have produced collections for Ideal Standard including Cornelia Thies, Neunzig Design and ARTEFAKT.
SORRY, THIS CATALOGUE IS NO LONGER AVAILABLE THROUGH THIS WEBSITE.
The Visual History of Ideal Standard Art & Design Catalogue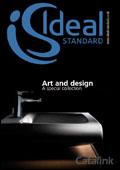 10 September, 2008