INDIA ON THE MENU - CULINARY HOLIDAYS BROCHURE
We have created a wonderful cooking holiday that will demystify Indian cooking and give you the confidence to dabble with this exciting cuisine at will. Our Indian cooking holiday is set in Goa – all coconut palms, golden sand and laidback living.

The local seafood produce is quite fabulous. The fruit and vegetables staggering in choice and flavour. The markets bursting with colour and all things imaginable. The spices fresh and fascinating. It is a foodie's dream. And a beach lover's paradise. If you're the cook and your companion is not, then there is no annoying sacrifice, no clash of opinion. This is a beach holiday. And a cook holiday. You can do either or both.

It is not a regimented course nor a tightly organised group affair, more an easy cook up, with time to yourself a plenty. Our chefs have chosen the cream of India's diverse & bountiful table. Home favourites from the north, essential eating from the south, with local soul food for good measure. They will take you to the local market to shop for ingredients, a real treat and an education. There will be transport arranged for your own individual market adventure. We'll give you a guide on spices and utensils to give you context on your search.
Your hotel, the luxurious Taj Holiday Village, has been carefully chosen for it's idyllic location, set right on the beach. However, we also offer the cooking course without accommodation, so if you would like to stay at another hotel but join the course, this can be arranged as well.

To make your culinary experience complete, we'll guide you to restaurants that the locals love. You'll be able to sample dosas from the south or sweet thalis from Gujarat. Local seafood. Tandoori platters......

India will quite literally be your oyster....
SORRY, THIS BROCHURE IS NO LONGER AVAILABLE THROUGH THIS WEBSITE.
The Visual History of India On the Menu - Culinary Holidays Brochure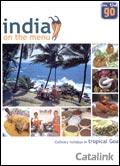 24 June, 2005