INDIAN OCEAN CRUISES BROCHURE
Indian Ocean Cruises – Since 1990 we have offered a year round programme of cruises to the idyllic and beautiful islands of the Indian Ocean aboard the yacht–like M.S. Royal Star.

Trips include...

Mysterious Zanzibar

Spice Islands

Jewels of the Indian Ocean

Secrets of the Seychelles

The Magic of Mauritius

Seychelles Royal

Mysteries of the Mascarenes

Portrait of the Seychelles

Voyage to the Cape

Indian Ocean Odyssey

... does just reading the name of these trips sound luxurious, mysterious and tempting?? Complete details of our Indian Ocean holidays are available in our brochure and on our website.
SORRY, THIS BROCHURE IS NO LONGER AVAILABLE THROUGH THIS WEBSITE.
The Visual History of Indian Ocean Cruises Brochure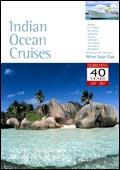 19 February, 2007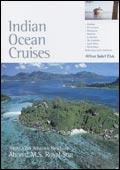 06 December, 2004