INSCAPE TOURS
If you want to experience an academic atmosphere that blends a variety of different media, methods and environments to achieve a stimulating and engaging way in which to explore a new or familiar subject, Inscape Tours will inspire your imagination with their innovative lectures and tours and their breathtaking destinations.

Whether you want to expand on an existing interest or you want to discover a new subject in an exciting way, Inscape present their tours by using a mixture of dramatisation and professional expertise. Their experienced team and specialist lecturers will ensure that you remain intellectually stimulated throughout each tour, guiding you through history as if you were really there.

The cultural depth and variety of each trip will guarantee that you not only gain a new perspective or heightened understanding on any subject – even if you considered yourself an expert already – but that you experience a cultural holiday like no other.

With tours which vary in length, itinerary and intensity, you can be sure to find one which will arouse your interests and cater to your needs, whatever those may be. Why not travel to Rome and experience the art, music, history and culture of the eternal city with a schedule that includes private tours and visits, garden walks and concerts?

If you want to visit somewhere a little closer to home, Inscape feature tours which include an intimate insight into the politics and family of Britain's first Prime Minister, based in Norfolk, a passionate study of Hereford Cathedral's many mysteries and intricacies and a vibrant tour of the enigmatic Scilly Isles and their flourishing wildlife and powerful ancient monuments.

Whether you want to broaden your historical knowledge on a given subject or experience some of the world's most exhilarating culture in an exciting and thorough manner, order your Inscape brochure now and let your imagination run wild.
SORRY, THIS BROCHURE IS NO LONGER AVAILABLE THROUGH THIS WEBSITE.
The Visual History of Inscape Cultural Study Tours Brochure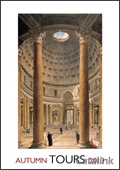 30 July, 2013